Ruffwood Game Farm - Testimonials
Upland Game Bird Hunting in Southwestern Ontario
on 150 acres of mixed terrain
~ HOME ~ GAME BIRDS ~ LAND ~ HUNTS ~ RULES ~ PRICES ~ TRAINING ~ NEWS ~ GIFTS ~ EMAIL ~
---
Ruffwood Game Farm - Mike & Donna Wilshire
R.R. # 1, Cayuga, Ontario N0A 1E0 (just one hour southwest of Toronto)
Phone: (905) 772-7230, Email: info@ruffwoodgamefarm.com
Pheasant and Chukar Hunts available. We are OPEN September through April - 7 days a week. Book early to avoid disappointment!!
NOTE: GIFT CERTIFICATES AND BIRD/SPORTING DOG EMBROIDERED SHIRTS AVAILABLE YEAR ROUND.
TESTIMONIALS - Comments from previous Pheasant and Chukar hunts at Ruffwood Game Farm. Please send us yours as well.
Ruffwood Game Farm truly has everything you need for a great upland hunt experience. The facilities, fields, and game birds are well maintained.
Our hosts, Donna and Mike, provide anything you need to make for a safe and successful upland bird hunt. We will definitely be booking another hunt
with Ruffwood. There is no doubt about the care Ruffwood puts in to running this establishment. Thanks again for a great day.
- Frank, Anthony, and Leo, Mar. 11, 2014
---
I was down to hunt with you guys last month. I just wanted to thank you once more for the great time had by all.
You were excellent hosts and we really enjoyed ourselves. We will definitely be back to visit you guys again in the future,
and if ever asked we'll not question to recommend your farm to anyone interested. We filmed our hunt with you
and put together a little video to share with our friends, I don't know if viewing it interests you put I've attached the link just in case.
Hope you enjoy and all the best until we meet again!
- B. K., Feb. 10, 2014
---
Just a quick note to say thank you very much for the excellent shoot Ed and I had on Monday.
We were thrilled to get 9 out of 10 birds. Best shoot we have ever had. See you in the fall.
- C. Spence, April 8, 2013
---
Thanks again for a great time on Friday and be sure that we will return. With others.
Attached are a few pictures that were taken throughout the day. Thanks again and see you soon.
- R. Smith, March 29, 2013
---
I wanted to convey again my sincere appreciation for a very enjoyable hunt. S. and I enjoyed it very much.
It may be a while before he stops reminding he is a better shot!
- P. J., March 18, 2013
---
Just wanted to say thank you for the great hunt we had, and an excellent set up.
- B. Cenic
---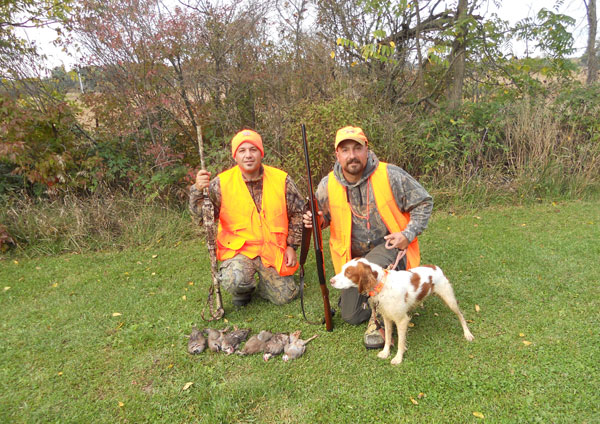 Thank you for a great day of hunting!! I was really impressed with how Chester performed today and I can't thank Mike enough
for the great training tips and handling of Chester. You are operating an amazing game farm and I can't wait to get out there again.
You truly have a hunter's paradise!! I have attached some pictures of the day.
Again, thank you so much, we all had a great day and could not stop talking about it the whole way home!!
- M. Balenzano, Bolton
---
It was a great time. Looking forward to next time.
- L. Robinson, Dundas
---
Amazing. Great purchase!!! Thanks for the intro/training with the collar. It's going to be a great year!!!!!!
- J, G & A. Ciceran, St. Catharines
---
Mike, Just a quick note to let you know that Ed and I had a great time yesterday.
The birds are fast and Jess is a treat to have pointing for us. We will be back.
Best regards, Cooper
---
I love your place.
V. J., Toronto, November 17, 2012
---
Thank you again for our previous hunting, it was great!
I would like to book another hunt for 3 people. Please let me know if it's available.
Thank you very much! Regards,
S. P., April 2011
---
| | |
| --- | --- |
| Pheasants Forever Hunt with Mike Miller, Ruffwood Brittany "Jess" and Mike Wilshire of Ruffwood Game Farm, Cayuga, Ontario | Pheasants Forever Hunt with Mike Miller, Doug Poirier in Actiontrak chair, and camera crew at Ruffwood Game Farm, Cayuga, Ontario |
For those of you who missed the Pheasants Forever Hunt at Ruffwood Game Farm back in October 2011,
it was televised on Angler & Hunter TV in February 2012. It is available on YouTube, and here is the link:
Angler & Hunter Episode 7 at Ruffwood Game Farm
---
To book a PRIVATE OR GROUP HUNT for Fall 2022 / Winter 2022/23
please contact Mike or Donna Wilshire
by email: info@ruffwoodgamefarm.com
or by phone 905.772.7230
BRITTANY PUPPIES available late 2023
For information on our Brittany puppies: www.ruffwoodbrittanys.com
Some organizations we belong to or affiliate with:
We are Life Members of CKC, 40 years of continuous membership, and members in good standings. We are also founding members of the Brittany Spaniel Club of Ontario in the late 1970s, and founding members of the Brittany Spaniel Club of Canada in 1988 and the Ontario All Pointing Breed Field Dog Club. Mike is the CKC Western Ontario Pointing Breed Representative to Council, and we are both CKC and AKC approved Field Trial and Field Test judges.
~ HOME ~ GAME BIRDS ~ LAND ~ HUNTS ~ RULES ~ PRICES ~ TRAINING ~ NEWS ~ GIFTS ~ EMAIL ~
---
©Ruffwood Design - 2022 All Rights Reserved
Webdesign by Ruffwood Design
www.ruffwooddesign.com
Email: Ruffwood Design