Ruffwood Game Farm - Bird Dog Training
Pointing and Flushing Breeds - train your own dog for
bird hunting or field competitions on our 150 acres of mixed terrain
HOME ~ GAME BIRDS ~ LAND ~ HUNTS ~ RULES ~ PRICES ~ NEWS ~ TESTIMONIALS ~ GIFTS ~ EMAIL ~
---
Ruffwood Game Farm - Mike & Donna Wilshire
R.R. # 1, Cayuga, Ontario N0A 1E0 (just one hour southwest of Toronto)
Phone: (905) 772-7230, Email: info@ruffwoodgamefarm.com
Mike Wilshire got his first Brittany in 1978 and had great success with him. He was a CKC Amateur and Open Field Champion by 3 years of age as well as Show Champion. As Mike continued to acquire more Brittanys, have success with them, and set up a successful breeding program, he became a CKC and AKC approved field judge, CKC Western Ontario Pointing Breed representative, marshalled Ruffed Grouse Society trials, US National Gun Dog Championship, travelled to Michigan, Ohio, Pennsylvania, Arkansas. Wherever there were bird dog activities, he was there! People started asking for his help, and thus began the professional bird dog training. He had many successes and put Field Test titles from FDJ through FDX as well as Cdn and US field trial wins and placements. He has bred US Field Champions as well as the #1 Juvenile Brittany in the US. He has been televised on Angler and Hunter TV, Wild TV, on radio and written up in Outdoor Canada, Ontario Out of Doors magazines and celebrity guests have visited the Game Farm.

For over 20 years he lived on an 85 acre farm in Belwood, Ontario, but moved further south to 150 acres in Cayuga, Ontario in 2010 and set up Ruffwood Game Farm. After 40 years, MIKE HAS RETIRED from training now, and is enjoying watching our CKC Field Dog Tests, NAVHDA, NSTRA events here at the farm.The Game Farm remains open for hunts from September through til the end of April, as well as a venue for breeders puppy days, and club events in the spring/summer/early fall months. BOOK YOUR EVENT EARLY!

Thank you to all clients who have entrusted their dogs to Mike Wilshire over the years.
Please enjoy photos of some bird dogs, training sessions, and achievements at Ruffwood Game Farm, Cayuga, Ontario.
Young English Springer Spaniel has been to Ruffwood Game Farm for assistance from Mike for gun dog training. She earned 4th in Open at Trial..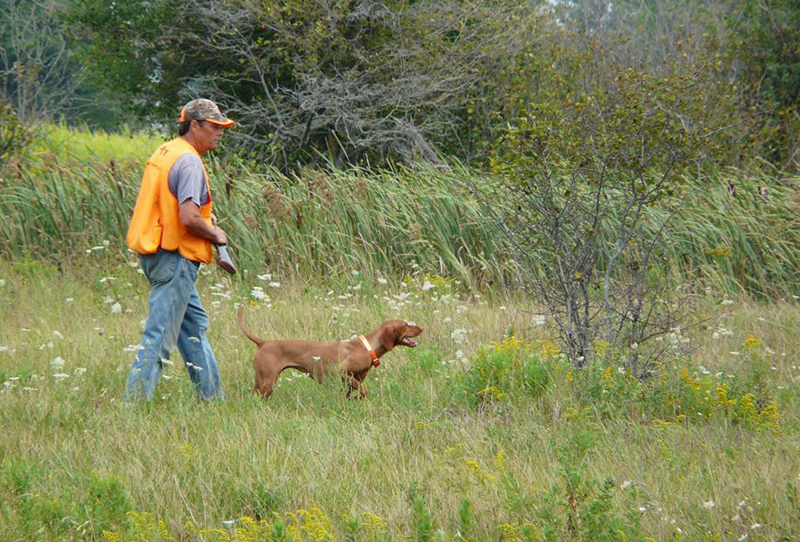 Mike Wilshire of Ruffwood Game Farm, Cayuga training with Vizsla, Sage. Sage got her FDX Champion title with high 90's scores.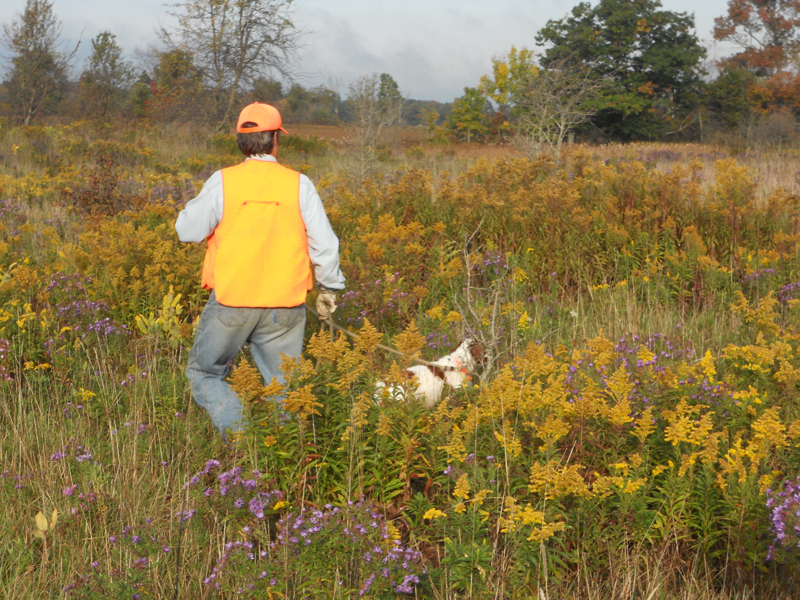 Above: Mike Wilshire training Chester, a client's Ruffwood Brittany on the Game Farm.
Please enjoy this video of a previous hunt here on the Game Farm with our Ruffwood Brittany, Pheasant Acres Jess, trained by Mike Wilshire and guest Labrador Retriever:
A recent hunt with Louie David, Fergus
Even if you don't own a hunting dog, you can try your luck without one. The cover is great for holding birds with brush piles and sorghum strips.
We will have a litter of purebred Brittany puppies ready to go early Spring 2020.
Please check out: www.ruffwoodbrittanys.com
For those of you who missed the Pheasants Forever Hunt at our place October 2011, it was televised on Angler & Hunter TV in February 2012.
It is now available on YouTube, and here is the link: Angler & Hunter Episode 7 at Ruffwood Game Farm
please contact Mike or Donna Wilshire
by email: info@ruffwoodgamefarm.com
or by phone 905.772.7230
BRITTANY PUPPIES - planned for late 2023.
Non-refundable deposits from approved families.
For information on our Brittany puppies: www.ruffwoodbrittanys.com
Some organizations we belong to or affiliate with:
We are Life Members of CKC, which is 30 years of continuous membership, and members in good standings. We are also founding members of the Brittany Spaniel Club of Ontario in the late 1970s, and founding members of the Brittany Spaniel Club of Canada in 1988 and the Ontario All Pointing Breed Field Dog Club. Mike is the CKC Western Ontario Pointing Breed Representative to Council, and we are both CKC and AKC approved Field Trial and Field Test judges.
HOME ~ GAME BIRDS ~ LAND ~ HUNTS ~ RULES ~ PRICES ~ NEWS ~ TESTIMONIALS ~ GIFTS ~ EMAIL ~
---
©Ruffwood Design - 2022 All Rights Reserved
Webdesign by Ruffwood Design
www.ruffwooddesign.com
Email: Ruffwood Design