Ruffwood Game Farm
Upland Game Bird Hunting in Southwestern Ontario
on 150 acres of mixed terrain - CONDITIONS are PRIME!!
~ LAND ~ GAME BIRDS ~ HUNTS ~ RULES ~ PRICES ~ TRAINING ~ NEWS ~ TESTIMONIALS ~ GIFTS ~ EMAIL ~
---
Ruffwood Game Farm - Mike & Donna Wilshire
R.R. # 1, Cayuga, Ontario N0A 1E0 (just one hour southwest of Toronto)
Phone: (905) 772-7230, Email: info@ruffwoodgamefarm.com
Thank you for a Great 2017/2018 Season! We close April 30th for training.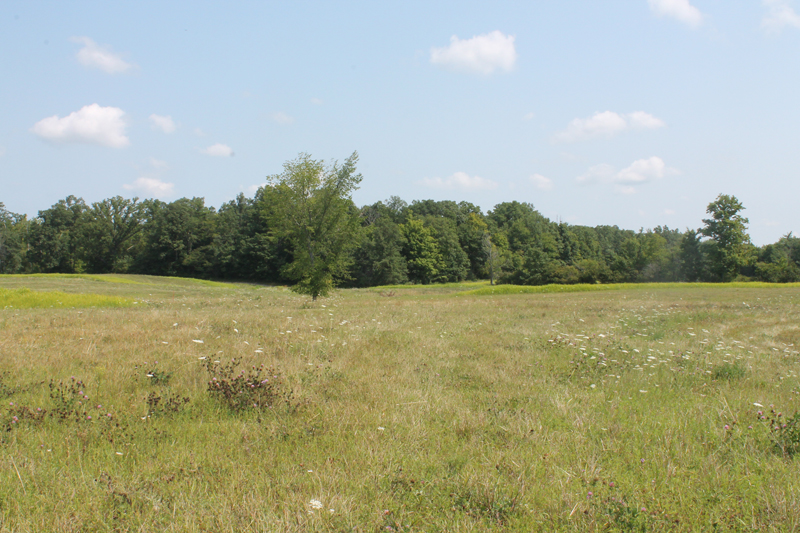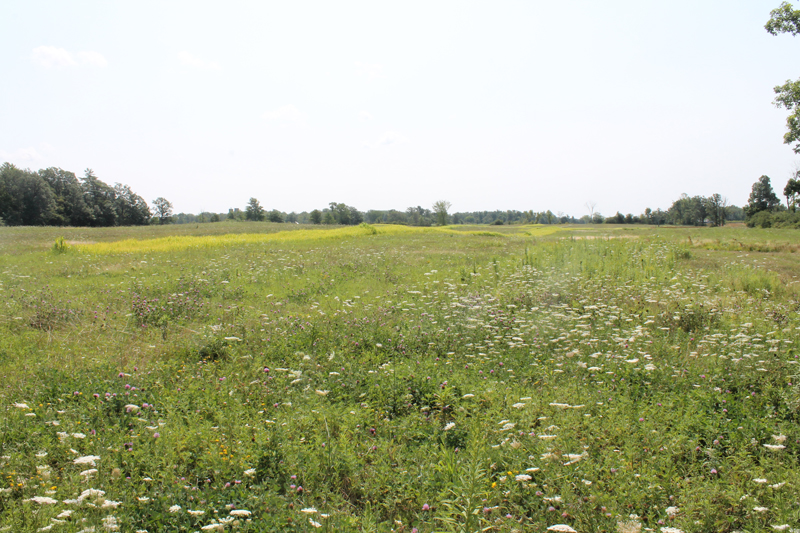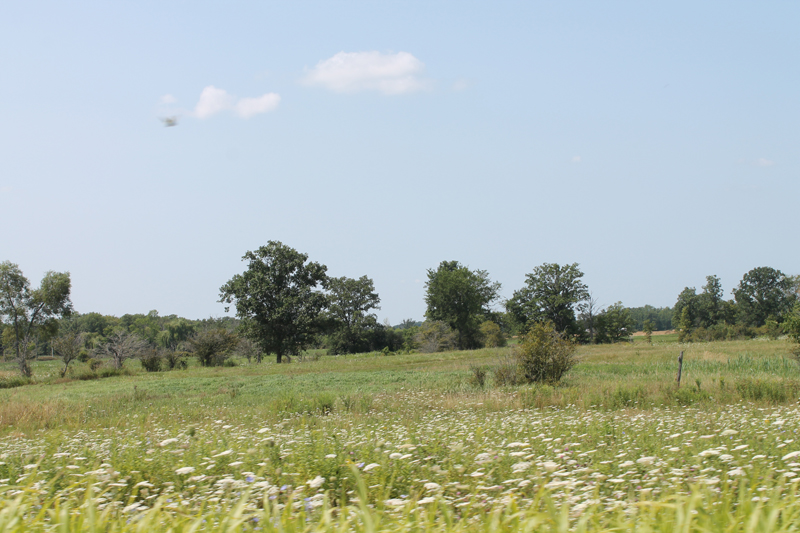 NOTE: A Valid Ontario Hunting License - and OFAH membership or extended insurance is required for EACH hunter.
We offer pheasant hunts and chukar partridge hunts through winter from September to May on our Game Farm with or without a gun dog. Bring your own pointing dog or flushing dog, or we can offer our professionally trained Brittany Spaniels and guide for your hunting pleasure. $75 minimum per person - either 3 pheasants @ $25 each, or 5 chukars @ $15 each, or a mixed bird hunt. The guide and one of our pointing dogs is just $50 - $100 flat rate for the hunt (depending on number of people/birds in group).
PLEASE NOTE: Cash, Cheque or e-Transfer only. WE DO NOT ACCEPT CREDIT CARDS OR DEBIT.
NOTE: GIFT CERTIFICATES AVAILABLE YEAR ROUND for HUNTS and PHEASANT EMBROIDERED CLOTHING.
To join OFAH, please click the link below:
https://www.ofah.org/memberservices/join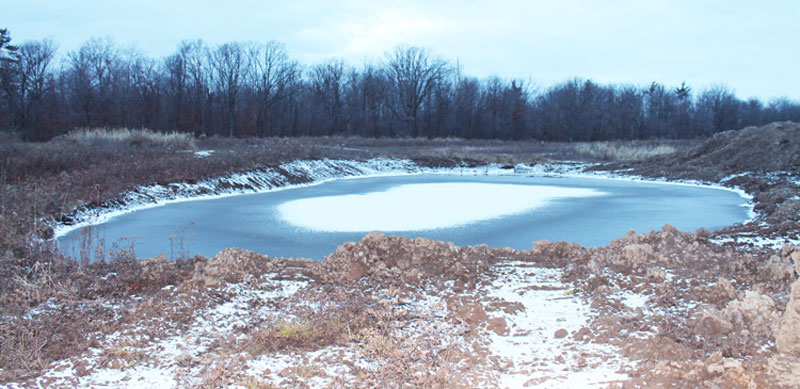 Our pond was dug this fall at Ruffwood Game Farm near Cayuga, Ontario. Great for water work for dog training!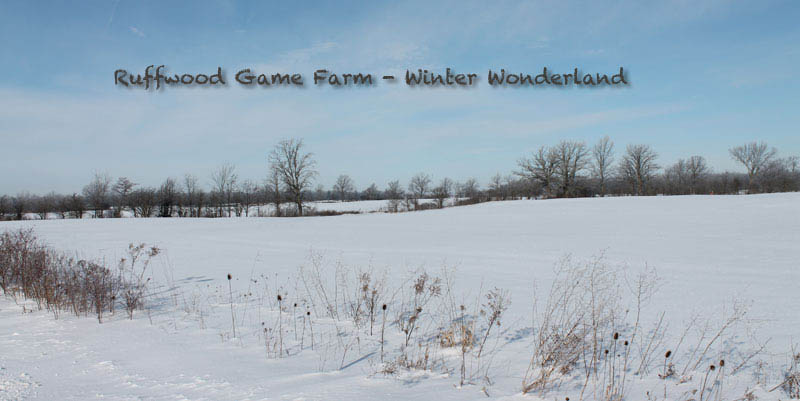 The snow hasn't stopped many people from coming out to Ruffwood Game Farm near Cayuga, Ontario. Great times!
Wayne Izumi with family and friends after a pheasant hunt at Ruffwood Game Farm, New Years Eve Day 2012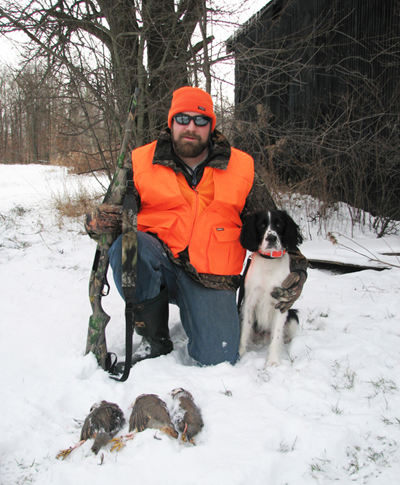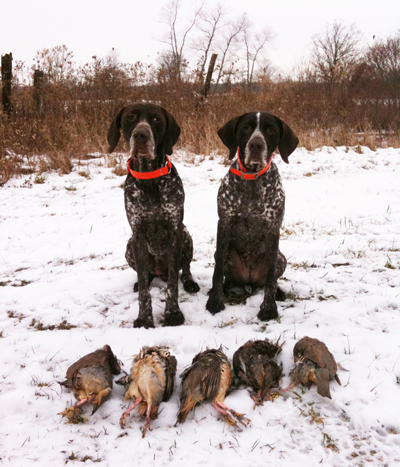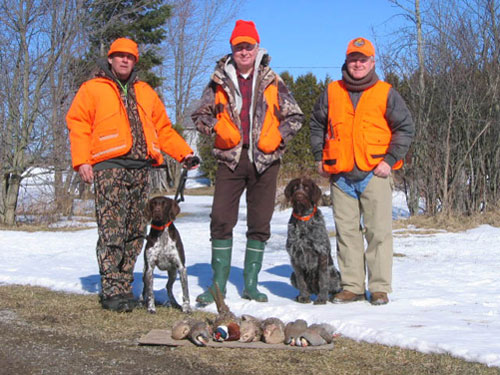 Whether you own a pointing dog or a flushing dog, and whether it is for personal hunting, field dog tests, and field trials, we make every effort to make your hunt or training session an enjoyable and challenging experience. We offer a variety of cover on the Game Farm, and we are pleased to work with you and your dog in a Training Hunt, or let you have the full experience of a game bird hunt!
Even if you don't own a hunting dog, we are pleased to offer our guiding services with one of our own personal Brittany Spaniels that are professionally trained, and point with style and intensity. We offer pheasant 3 bird minimum, and chukar partridge (5 bird minimun) hunts. You can also combine your game birds for a mixed hunt. Two hunts daily - either morning 9:00 am. or afternoon 1:00 pm. during Sept, Jan, Feb, Mar, April. One hunt daily - 10 am - 1 pm. Subject to weather and daylight savings time.
To book a PRIVATE OR GROUP HUNT for Fall 2018 or Winter 2019
please contact Mike or Donna Wilshire
by email: info@ruffwoodgamefarm.com
or by phone 905.772.7230
BRITTANY PUPPIES - available Summer 2018
Please contact Mike or Donna Wilshire
www.ruffwoodbrittanys.com
by email: ruffwood@ruffwoodbrittanys.com
or by phone 905.772.7230
Some organizations we belong to or affiliate with:
About Us: We are Life Members of CKC, which is 30 years of continuous membership, and members in good standings. We are also founding members of the Brittany Spaniel Club of Ontario in the late 1970s, and founding members of the Brittany Spaniel Club of Canada in 1988 and the Ontario All Pointing Breed Field Dog Club. Mike is the CKC Western Ontario Pointing Breed Representative to Council, and we are both CKC and AKC approved Field Trial and Field Test judges.
~ LAND ~ GAME BIRDS ~ HUNTS ~ RULES ~ PRICES ~ TRAINING ~ NEWS ~ TESTIMONIALS ~ GIFTS ~ EMAIL ~
---
©Ruffwood Design - 2018 All Rights Reserved
Webdesign by Ruffwood Design
www.ruffwooddesign.com
Email: Ruffwood Design